The research presented here is the result of an enquiry to the Steeple Aston Village Archive. Myrtle Cracknell was looking for any information about her great grandparents Joseph Wells Bishop and his wife Mary Ann, nee Fortnum, who lived in Steeple Aston.
---
Joseph Wells Bishop was born around 1839 or 1840 and baptised in Deddington on 11 Nov 1841. Since September 1837, all births in England should be registered but there is no registration of a birth of a Joseph Bishop around the right time.
His baptism record shows the baptism was performed privately. In the space for the child's name Thomas has been crossed out and replaced with Joseph. It looks as though this may have been done at a later date as the ink colour is darker. The father's name is not given. The mother is given as Patty, a married woman, with a footnote stating 'The husband of the above was transported 4 or 5 years since'. There is a side-note saying 'since dead', but it is unclear whether this refers to the husband or possibly to Thomas. Joseph's middle name of Wells is not mentioned.

According to the Deddington village history website
(http://www.deddingtonhistory.uk/emigrationandtransportation2/transportees),
the book 'Stories of Oxford Castle – From Dungeon to Dunghill' by Mark Davies gives the following information as a possible clue to Patty's husband:
c.1837. Unknown BISHOP, possibly Stephen Bishop (30) who was recorded as being tried for Larceny at the Oxford Assizes in 1837 and transported for 7 years.
This was in fact the case; his trial was on 02 Jan 1837.

The Prison Hulk register shows he was received on to the prison ship Ganymede in Chatham on 17 Jan 1837. The record states he was a labourer, had a wife and 2 children and had a previous conviction.

From there he was transferred to the ship Blenheim for transportation, departing 11 Mar 1837, destination Van Diemen's Land (Tasmania).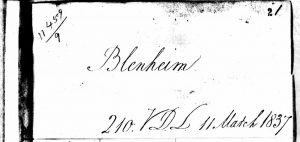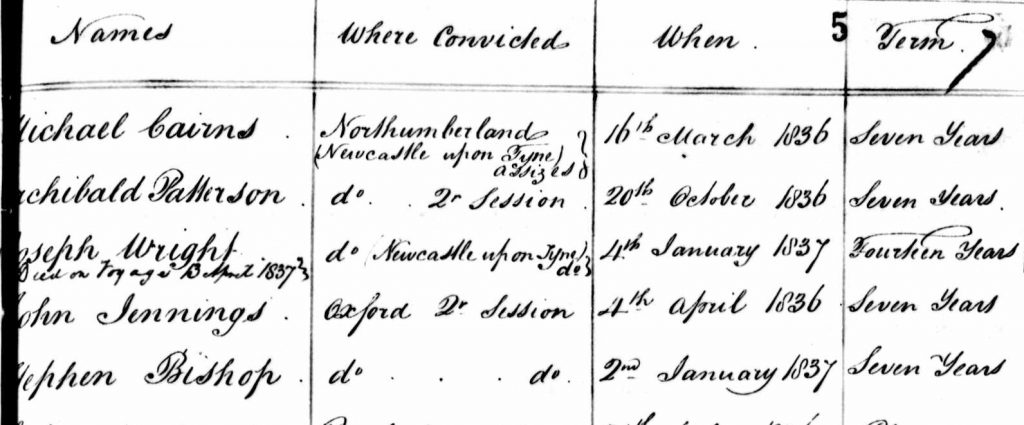 Patty was indeed married to Stephen Bishop. They married on 28 May 1832 in the church in Swalcliffe, the village where Patty was baptised in 1811.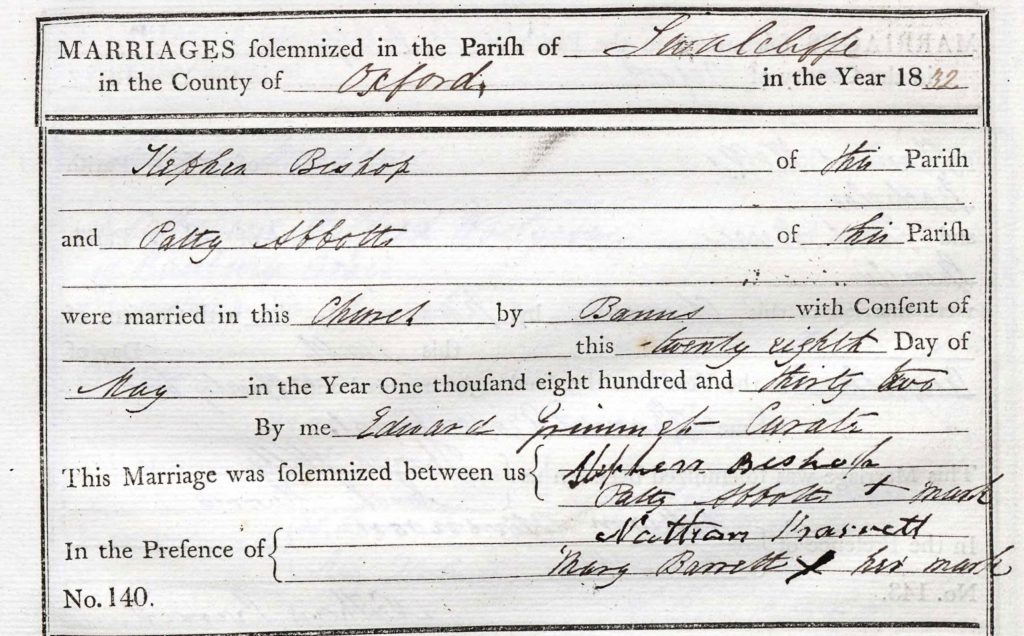 Patty's parents were William and Hannah Abbotts

In the marriage register, Stephen and Patty are both 'of this parish' although it seems as though Stephen may have been baptised in nearby Brailes in 1806.

---
Who were the 2 children mentioned in the Prison Hulk register?
Only a few weeks after Stephen was transported, Rebekah Bishop, daughter of Stephen and Patty Bishop, was baptised in Oxford on 26 Feb 1837. Stephen's occupation was given as labourer and place of residence as Summertown.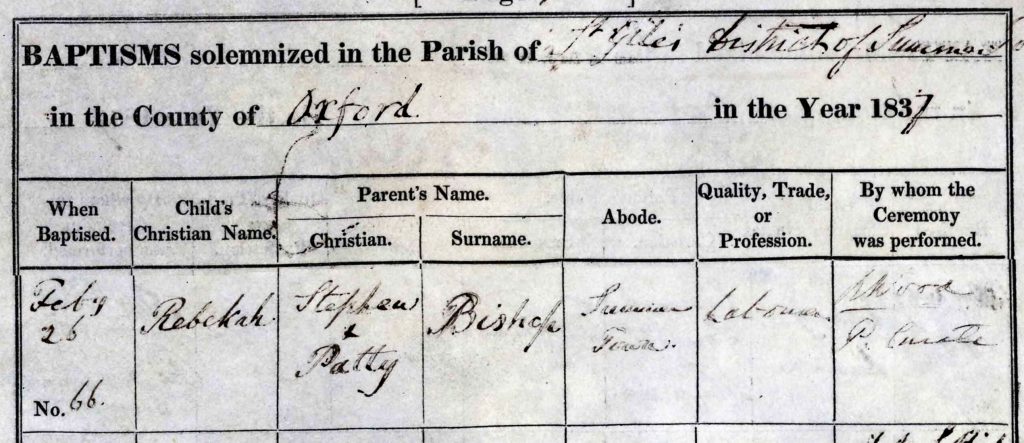 I have been unable to find a record for another child born with both Stephen and Patty named as the parents.
However, there is a record of a baptism on 28 Jan 1835 in Swalcliffe, Patty's home village. The name of the child is indistinct but possible Heben or Heber or something similar and he is the son of Patty (alias Martha) Bishop who is given as a spinster living in nearby Sibford. The father is not mentioned. Could this be Stephen's other child? Is it at the time of his previous conviction and Patty is not acknowledging her marriage to him? What happened to this child? There is a record of burial of a Hober Bishop, aged just 2 years, on 07 Apr 1837 (very soon after Stephen was transported), but in Middlesex. The first name written  in the burial register looks remarkably similar to that in the Swalcliffe baptism. Had Patty moved to Middlesex after Stephen was transported? Did she have relatives there? I cannot find any other records for a Hober/Heben/Deben Bishop. This all needs further investigation.



---
If Stephen Bishop had been transported for 7 years in 1837 then he couldn't be Joseph's father. If Patty's husband Stephen wasn't Joseph's father, then who was?
When Joseph married Mary Ann Fortnum in Barford St. Michael on 05 Jan 1861, the parish register gives Joseph's father as David Wells. This agrees with the information provided by Myrtle and would account for Joseph's middle name of Wells. David's occupation is given as a cordwainer (a shoe maker), which is the same as that given for Joseph.

Joseph's age is given as 21 years, which puts his birth sometime in the year Jan 1839 – Jan 1840. There is a registration of a birth  for a Joseph Wells in the third quarter of 1839, in the registration district of Banbury. Although Deddington parish comes under the Woodstock registration district, Patty's home parish of Swalcliffe comes under the Banbury registration district. Obtaining the birth certificate associated with this registration may clarify whether this is the correct record for Joseph.
At the time of the 1841 census in June of that year, David Wells (a cordwainer, age 25) was living in Deddington with 3 children: Rebecca (aged 3 years), Joseph (aged 1 year) and Thomas (aged 1 month).
The children were all assigned the surname of Wells, but this may have just been an assumption by the census enumerator when recording the information. There is no sign of Patty.

It seems as though David was bringing up Stephen's daughter Rebekah/Rebecca as well as Joseph and a younger brother, Thomas.
Unfortunately Thomas died later that year, just 7 months old; he was buried in Deddington on 13 Nov 1841 (2 days after Joseph's baptism). So the side-note on Joseph's baptism record seems to refer to Thomas who, presumably was never baptised. Or was the name on the baptism record changed after Thomas's death?


If Patty was using her alias of Martha, there is a record which may place her in the same area a few years later. Unfortunately, it is a record of a burial in Deddington on 14 Dec 1847 of a Martha Bishop. Her age is given as 33 years which is a bit younger than may have been expected for Patty; 36 years would be more probable. However, I have not found any other records for either Patty Bishop or this Martha Bishop, nor for a Patty Wells.


---
What happened to the family after this?
It is unclear what happened to Rebekah/Rebecca. There are a couple of possible records for her but they require further research to confirm whether they relate to the correct person. In 1851, she may have been with relatives in Sibford (close to Patty's home village of Swalcliffe), and in 1871 she may have been in the workhouse.
In 1851, there is a census record for a Joseph Wells (rather than Bishop) in Deddington, staying with the Gibbs family, along with two girls, Mary Wells and Caroline Wells, who may be his sisters or cousins. Again, this requires further research to clarify whether this is the correct Joseph but I have not found another record that seems likely.
I have been unable to find a census record for David Wells in 1851.
However, ten years later in 1861, David Wells (occupation cordwainer, age 46) was boarding in Deddington. His birthplace is given as Duns Tew. There is a baptism record for a David Wells in Duns Tew on 11 Aug 1811, parents William and Catharine Wells, but the date is too early for the ages given for David in the 1841 and 1861 censuses. There are no other baptism records for a David Wells in Oxfordshire around this time, but it is not unknown for people to lie about their age on the census!

In the same 1861 census, Joseph, newly married, is with his wife and in-laws in Barford St. Michael. His occupation is given as shoe maker.
On 31 December 1868, there is a record of a burial in Steeple Aston of a David Wells. His age is given as 55 years; according to his baptism he should have been around 57 years and according to the census information around 53 years. However, as there is no other record locally for David after the 1861 census, it is likely that this is Joseph's father. Unfortunately, there is no gravestone and no record of where in the churchyard he is buried.

If David had been living in Steeple Aston, that may be the reason why, by the time of the 1871 census, Joseph and his family were also living in Steeple Aston. Joseph, a cordwainer, and his wife Mary Ann had several children by this time:
Elizabeth (9)
Selina (7)
Mary Ann (5)
Caroline (3)
Alfred J (2)
Baby Bishop (3 weeks)
They were living in Paines Street (now Paines Hill), a few houses away from Minerva House. The school admission register shows that the eldest 3 children were all attending the village school.

Dr Radcliffe's School Admission Register 1863 – 1875


The census record gives the birthplace of all the children as Steeple Aston  (although Elizabeth was baptised in Barford St. Michael). As the eldest, Elizabeth, was 9 years old at the time of the census, Joseph and his wife must have moved to Steeple Aston soon after their marriage. At present, it is unknown whether David had lived with them. There is no record in the 1868 parish rate books of David Wells being either an owner or tenant/occupier of any property within the village, so it is quite likely he lived with Joseph and his family.

Sometime between 1871 and 1878 the family moved to a house elsewhere in the village. This is evident from a sale notice in 1878 for the property which suggests it is not the house near Minerva House on Paines Hill. According to the sale notice, it was near Jubilee Close with the use of an approach road from South-street.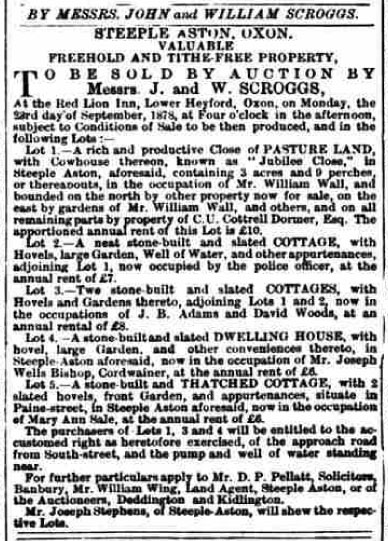 1877 and 1878 must have been a difficult couple of years for the family. In the summer of 1877 their daughter Mary Ann died, aged just 12 years old. She was buried in Steeple Aston on 30 Aug 1877. The cause of death is not recorded in the burial register.


Her school record shows the disruptions to her school career. Maybe these are linked to her early death.

Shortly afterwards, in September that year they welcomed the arrival of the latest addition to their family, James Albert. Tragically, in February of the following year, he too died. The cause of death is unknown. He was buried in Steeple Aston on 18 Feb 1878. His parents had had him privately baptised only 10 days earlier, on 08 Feb 1878. There is no record of the whereabouts of the burial site of either child.

By the time of the 1881 census, the family had expanded. The two eldest daughters had now left home (both had gone into service but had stayed fairly local, Elizabeth in Tackley and Selina in Iffley) but Joseph and Mary Ann still had several children living at home:
Caroline (13)
Alfred John (12)
Joseph (10)
Frederick (8)
Eva Ellen (6)
William Harry (5)
Sophia (2)
Joseph is still a cordwainer; Mary Ann is recorded as formerly a dressmaker. They were now living in Harrisville, a lane of cottages opposite the south end of Paines Hill.
The school admission register shows that all but the youngest child, Sophia, had all been admitted to the village school. Some of the entries indicate their progression from the infant school to the main school. It is interesting that the register gives Caroline's leaving date as July 1879 (a couple of months before her twelfth birthday and over a year before the census) but the census still gives her occupation as Scholar.
School Admission Registers (entries from different ledgers have been amalgamated)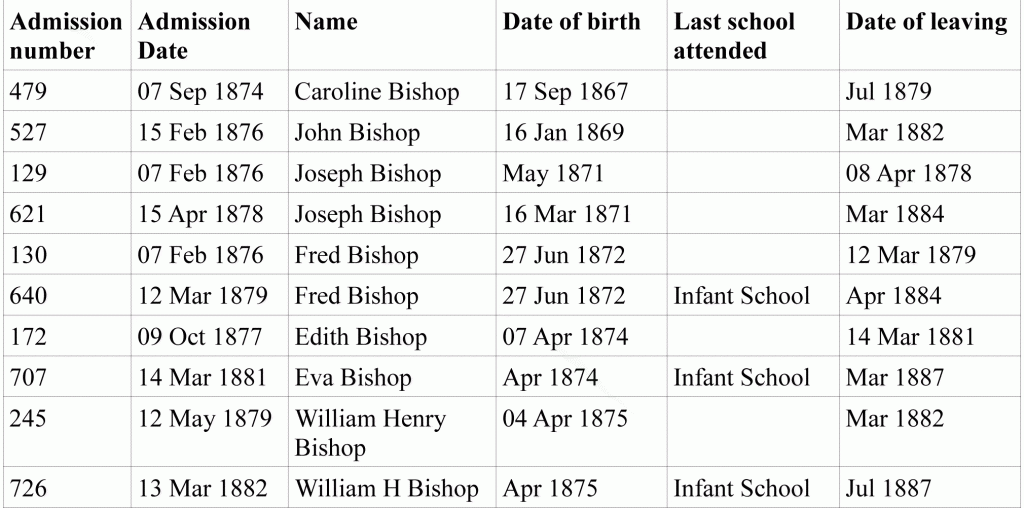 Note that Alfred John appears as John. His leaving date was originally written as 05 Jan 1880, but this was crossed out and replaced with Mar 1882. Eva has also been misrecorded as Edith.
By 1891, the family had expanded yet again but fewer were living at home:
Alfred J (22)
Sophia (12)
Ernest (9)
Ada M (6)
They had moved again and were now living in South Street. Joseph was now called a bootmaker. Alfred (John) has left school and is working as an agricultural labourer. The school records show that the other children had all been admitted to the village school.


Another 10 years on, in 1901, Joseph (now 61 years old) was still working as a shoe maker, but now working for himself. He and Mary Ann were still living on South Street. All the children seemed to have moved on but Joseph and Mary Ann had a grandson, Lawrence (age 12 years), with them. According to Myrtle, Lawrence (Selina's son) was brought up by Joseph and Mary Ann. This is verified by the school records, which show Lawrence attended the village school, with Joseph named as his guardian.


By the next census in 1911, Joseph was living alone, widowed. He was still working but had taken on an extra job as a lamplighter. He was still living on South Street. What had happened to his wife, Mary Ann?

There is no record of a death or burial for Mary Ann in Steeple Aston or in the local area. According to Myrtle, Mary Ann may have died near Woking, Surrey, where her son lived. There is a record of a death of a Mary Ann Bishop in 1906 in the registration district of Chertsey, Surrey and an associated burial record for her on 18 Jun 1906 in St. Mary's Church in Horsall, which is near Woking.

Joseph lived on for a few years but died in 1916. Although his place of death is given as the Union Workhouse in Hensington, near Woodstock, he was buried in Steeple Aston on 06 Jun 1916.

Unfortunately, there is no gravestone and no record of where in the churchyard he is buried.